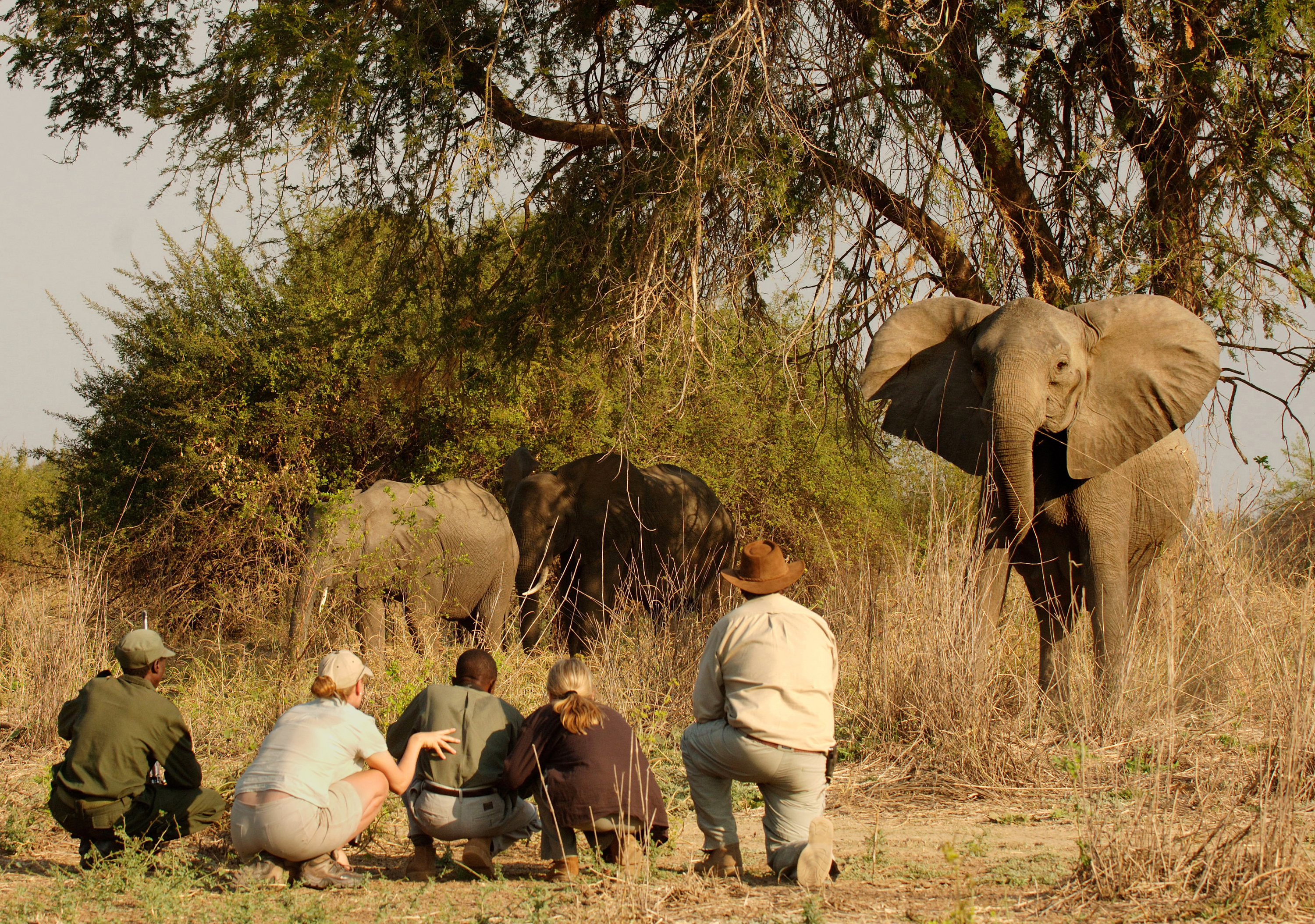 Safari walking tours not only provides the ultimate bush adventure activity for the discerning tourist, but allows for an invaluable intimate experience with nature that can be enjoyed by all ages. Take delight in discovering diverse landscapes and terrains, ancient secrets of Mother Nature in the wilderness and get up close and personal with the fascinating flora and flora of the African bush.
Superb guided walking safaris excursions are offered throughout South Africa's comprehensive network of abundant National Parks and game reserves. Numerous options of walking safaris are available to choose from. The choices range from guided night walks, single day tours to multi-day walking trails. More in depth information on types, duration and accommodation is available from individual safari walking tour companies, National Parks or safari lodges.
The unique features of walking safari tours are what make this type of adventure highly popular with international visitors. On a walking safari through a game reserve or national park, you get to identify animal tracks, track game and bird watch while at the same time learning about the habitats and natural balance of nature. Of the multitude of animals to be spotted, the popular are lions, elephant herds, rhinos, giraffe, antelope, zebra, wild pigs, crocodiles, hippos and a diverse variety of birds.
In the interests of safety and in experiencing the ultimate bush experience, it is strongly suggested that tourists opt for guided walking safari tours. This segment of the tourist industry has been revolutionized of late and rangers and field guides have undergone extensive training to provide superior service. Take advantage of experienced and expert field guides and their intimate knowledge of the area, indigenous vegetation, wildlife that can be observed and the accompanying history and legends that came before. Guides instruct visitors on the appropriate etiquette to observe whilst in the bush, and what to do upon sighting animals in the wild. Rule number one is never to approach any of the animals you encounter and to keep a safe distance away.
Perfect for the adventurous tourist, walking safaris bring you within feet of Africa's great wildlife.
The sights and sounds of the African bushveld are open to any able bodied tourist with a moderate fitness level. Depending on the length and duration of your guided walking safari tour, trails can either provide leisurely walks at a relaxed pace or exhilarating walks through the bushveld that gets the adrenaline pumping. Walking safaris can be complemented perfectly with game drives or horseback riding safaris for comprehensive game viewing pleasure.
Essential items to pack for a walking safari should include comfortable, long socks with a good quality pair of walking or hiking shoes, a hat that protects the head and neck, sunscreen lotion, sunglasses, pair of binoculars, powerful torch and a camera is highly recommended too. Light coloured clothing with long sleeved shirts and trousers are more favourable while trekking through the bush under the hot African sun. Digitally record your authentic bush experience, and relive the magic again and again when sharing with family and friends.
While South Africa is fortunate to be blessed with wonderful welcoming weather all year round, the most opportune wildlife watching season is during the winter months (April to December) when animals tend to populate rivers and waterholes, and when foliage is sparse. Officials advise international visitors to plan walking safari tours well in advance to be able to select from the best camps and tours available.
Picture credit: safari.co.uk
https://www.easytravel.co.za/wp-content/uploads/2013/07/Walking-safari-Zambia-safari.jpg
2108
3000
Zulfah Abrahams
http://www.easytravel.co.za/wp-content/uploads/2017/11/et_web_logo.png
Zulfah Abrahams
2013-08-01 12:25:42
2013-08-01 11:20:16
Safari walking tours: the ultimate bush adventure