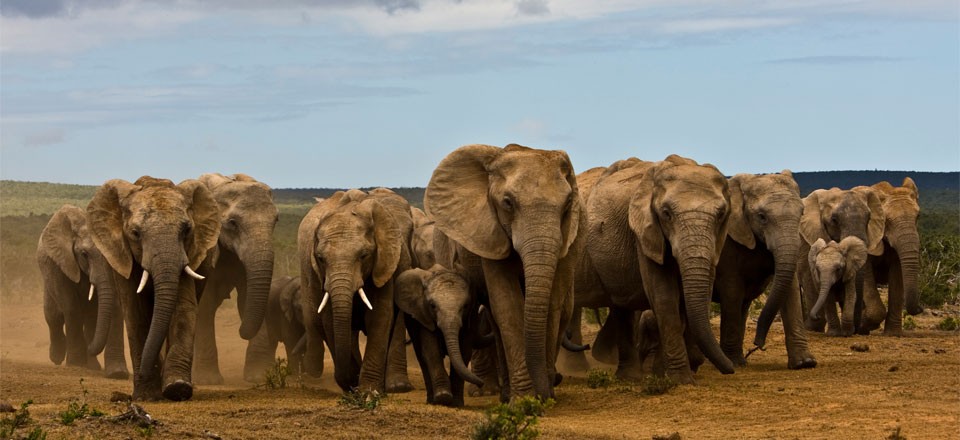 South Africa is the ultimate in wildlife viewing destinations. Two of the world's most widely acclaimed wildlife reservation areas and more than 20 National Parks dedicated to the protection of its precious natural assets, South Africa is unrivalled in its ability to provide spectacular opportunities to experience the majestic beauty of the natural world in this part of Africa.
The incredible range of protected wildlife regions encompasses diverse landscapes. Deserts, forests, open savannahs, mountains and coastal areas showcase both animal and plant worlds to their advantage.
1. The Kruger National Park
The flagstone and forerunner of national parks in South Africa, the Kruger National Park draws in millions of international tourists and local visitors annually. Representing the largest of all parks in South Africa, there are a multitude of activities to enjoy in almost two million hectares of diverse terrain. Impressive statistics speak of 336 trees, 49 fish, 34 amphibians, 114 reptiles, 507 birds and 147 mammals. Walking safaris and game drives provide an unforgettable personal experience of life in the bush.
2. Kgalagadi Transfrontier Park (Northern Cape)
The Kgalagadi Transfrontier Park is the second world renowned of South African parks. Its unique characteristic is being a sizable ecosystem without man-made barriers and comprises two adjoining national parks straddling the South African and Botswana borders. An abundance of wildlife including 200 species of birds can be observed in habitat of red sand dunes, dry river beds and occasional trees.
3. Mapungubwe National Park (Limpopo)
A World Heritage Site, the great ruins at Mapungubwe talk of human civilization in existence around 850 AD. Rich fossil deposits, Bushman rock art, giant baobab trees and riverine forests are just some of the secrets this transfrontier National Park wishes to share.
4. Greater St. Lucia Wetlands Park (Kwazulu Natal)
The third largest park in South Africa and a World Heritage Site, Greater St Lucia Wetlands Park has 328 000 hectares of scintillating scenery. The coastline boundary consists of 280km of coral reefs and pristine beaches. Other habitats contained within the park are coastal forests, lush coastal plains and woodland areas.
5. Hluhluwe Umfolozi Game Park (Kwazulu Natal)
The oldest game reserve, Hluhluwe Umfolozi Game Park prides itself in being home to Africa's 'Big Five'. The park has facilitated optimal viewing pleasure of lion, elephant, buffalo, leopard and rhinos which remain the prime attractions.
6. Addo Elephant Park (Eastern Cape)
This magnificently diverse national park showcases a wide variety of wildlife including the Black Rhino, species of antelope and Cape Buffalo. The park's name takes its cue from the main attraction – the African Elephants that call the park home, numbering over 350. Apart from game viewing, visitors can also expect outdoor adventure and cultural experiences.
7. Table Mountain National Park (Cape Town and Cape Peninsula, Western Cape)
Table Mountain takes on a legendary status around the world. This natural wonder of picturesque mountains, crystal seas and bleached white sands has taken on the latest mantle of New 7 Wonders of Nature. Included in the park's protected areas is an indigenous forest and The Cape Floristic Region which is the world's smallest diverse floral kingdom.
8. De Hoop Nature Reserve (Whale Coast, Western Cape)
This wetland reserve located on the western Cape coastline boasts over 200 bird species, deserted beaches, rock pools and beautiful unique shrub lands (fynbos). It is also highly rated as providing the world's best land-based whale-watching opportunities.
9. Pilanesberg Game Reserve (North West Province)
Sitting on the remnants of an alkaline volcanic crater, this national park offers a unique mosaic of mammals, birds and vegetation across 55 000 hectares which is attributed to the reserve's location traversing the dry Kalahari and wetter Lowveld vegetation.
10. Garden Route National Park
A jewel in South Africa's crown of wildlife conservation areas, Garden Route National Park, situated on the southern coastline, harmoniously blends a diversity of landscapes, seascapes, forests and mountains into a picture perfect natural and cultural heritage.
Picture credit: addoadventure.com
https://www.easytravel.co.za/wp-content/uploads/2013/07/addo-elephant-park.jpg
440
960
Zulfah Abrahams
http://www.easytravel.co.za/wp-content/uploads/2017/11/et_web_logo.png
Zulfah Abrahams
2013-08-02 14:45:25
2013-07-31 10:45:55
Top 10 national parks of South Africa