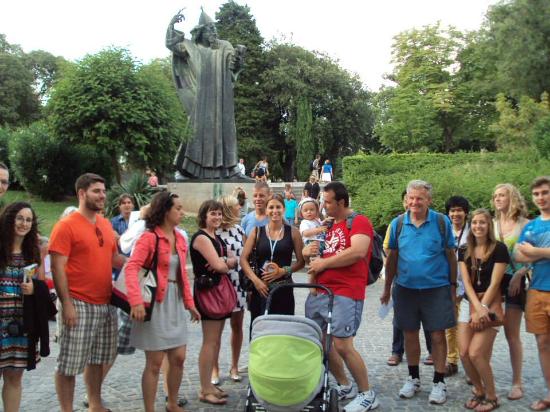 The attraction of walking tours affords a unique personal perspective from which to enjoy the local landscape, history and culture of your holiday destination. The benefits of walking tours are extensive, some of which include:
• You reap the benefits of an intimate experience with the city's landscape or countryside's history and architecture (depending on where you are travelling to),
• Walking tours is a guilt free eco-friendly way to tour a city or see sites of historical and cultural significance,
• Slow down the pace and discover the magic of your destination at your own leisurely pace if you choose a self-guided tour,
• All you need is a comfortable pair of shoes to walk in and a good guide book or book with a reputable knowledgeable tour guide company,
• You get to walk along the same paths as historic figures and personalities on a theme-based walking tour,
• Walking tours are a great way to see the sights and keep in shape.
How to prepare for a walking tour
Walking tours require a fair amount of walking, and even though it can be done at a pace you are comfortable with, you may need to prepare your body before you go on holiday. This is particularly important if you will be going on hiking trails over long distances or over rough terrain which may require a higher fitness level. If you are using a tour guide company, check with them on the fitness level required for their tours. Ask the locals for advice if you prefer a self-guided tour.
Protect yourself and opt for travel insurance with medical cover that would cover you should you travel to a remote location and the unfortunate happens and you get injured.
If you are travelling across time zones or to high altitude destinations, allow your body to adjust to jet lag or changes in altitude.
Recommended things to pack
If you have chosen to use a professional tour company, your guide should provide a recommend list of items that you would need. For self-guided walking tours, here is our list of essential items to carry:
• A pair of comfortable walking shoes or waterproof hiking boots which come more highly recommended by many tour operators,
• A good effective brand of sunscreen to protect your skin,
• A hat that provides effective cover from the sun,
• Sunglasses to protect the eyes from UV exposure,
• Depending on where you would be walking, insect repellent,
• Comfortable clothes that is suitable for walking and include an all-weather jacket,
• Bottled water, dried fruit or energy bars,
• A camera.
Some of your holiday's most memorable moments are experienced on walking tours which are often the true way to uncover the essence and history of a place.
https://www.easytravel.co.za/wp-content/uploads/2013/12/walking-tour.jpg
412
550
Zulfah Abrahams
http://www.easytravel.co.za/wp-content/uploads/2017/11/et_web_logo.png
Zulfah Abrahams
2013-12-02 11:44:40
2015-02-09 18:59:52
Experience the benefits of a walking tour on your next holiday