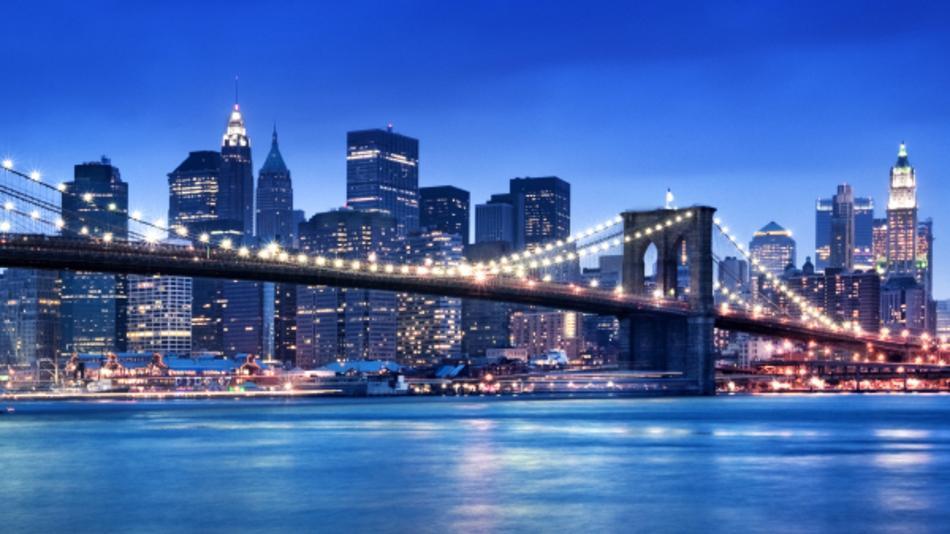 Few cities can compare with the wealth of attractions that New York has to offer a visitor. It can be overwhelming for the first-time tourist to New York to decide what to see as the list of top attractions is extensive. Whilst there can be no definitive list, our top 7 of must-sees appear below:
1. The unbeatable skyline of New York City
New York's skyline is one of the most instantly recognizable in the world and that leaves most that look upon it, awe-struck. Iconic high rise buildings, monuments and bridges create a spectacular feast for the eyes. The aerial view provided 86th floor observation deck, 1 050 feet high, of the Empire State building is second to none.
2. Times Square
Time Square is one the classic attraction for both local and international visitors. Its characteristic gigantic digital billboards' bright lights, art and jewelry peddlers, Broadway shows, restaurants and big brands' flagship stores offer a colourful eclectic mix that tantalizes all the senses.
3. Central Park
Located in the pulsing heart of Manhattan, is a manmade modern masterpiece – Central Park. Traversing 843 acres, this urban oases comprises of rolling fields, walking trails and suitably placed lakes and reservoirs. Central Park on its own showcases plenty of attractions for the visitor to delight in: Cantral Park Zoo, the Great Lawn, Wollman Rink, Rumsey Playfield, Belverdere Castle are just some of the highlights to experience here.
4. Statue of Liberty and Ellis Island
One of the most instantly recognizable landmark is the Statue of Liberty. This iconic Lady symbolizes a beacon of hope and freedom to millions who set eyes on her. The 125-year old statue can be accessed easily via a short ferry ride to Liberty Island.
5. Bronx Zoo
The Bronx Zoo is considered the largest urban wildlife preserve housed within the United States. More than 5 000 animals call the 265 acre Bronx Zoo home. Zebras, lions, giraffes, baboons, lemurs, crocodiles, sea lions, penguins, tigers, antelope are just some of the wildlife that can be viewed. Visitors are invited to excite the senses on the Wild Asia Monorail, or gaze in awe at the World of Birds or World of Reptiles.
6. National September 11 Memorial & Museum at the World Trade Center
It is well worth a visit to stop by the National September 11 Memorial & Museum at the World Trade Center. The eight acre memorial is in tribute to the 3 000 victims who lost their lives due to the terrorist attacks on February 26, 1993, and September 11, 2001. A sanctuary featuring more than 400 trees offer visitors a space of quiet reflection to think of the lives that were lost. Two large reflecting pools fed from waterfalls have the names of the men, women and children inscribed in its bronze walls. A short distance away lays the 9/11 Tribute Center where photos are displayed and where visitors are invited on walking tours that remember what took place during those horrific events.
7. Staten Island Ferry
A glorious view of the New York Harbor and the Manhattan skyline can be had on a free short 25 minute ferry ride from Lower Manhattan to Staten Island. The ferry service is offered 24 hours a day with stops at St. George Ferry Terminal. Attractions which are fed by the ferry service include: the Staten Island Museum, St George Theater, Snug Harbor Cultural Center and Botanical Garden.
https://www.easytravel.co.za/wp-content/uploads/2013/07/new-york-city.jpg
534
950
Zulfah Abrahams
http://www.easytravel.co.za/wp-content/uploads/2017/11/et_web_logo.png
Zulfah Abrahams
2013-07-13 08:25:26
2013-07-13 08:26:26
7 Essential things to see in New York City