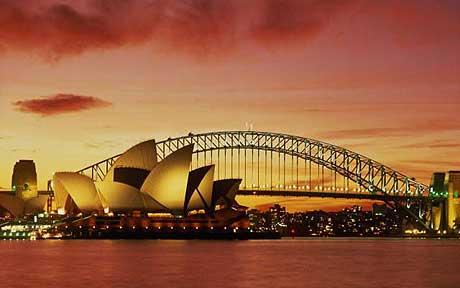 Australia's largest city is famed for its iconic landmarks, gardens and vibrant energy. The tourist attractions of Sydney perfectly portray the city's unique charm and personality. The city is filled with an exciting line up of not-to-be-missed attractions.
1. Sydney Opera House
One of the most easily spotted landmarks in the world; the Sydney Opera House is Australia's most famous symbol. Its unique distinguishing architectural and engineering design is an accomplishment for modern architecture. A visit to Sydney remains incomplete without a visit to the Opera House has housed over 1 500 performances attracting over 1.2 million audiences every year.
2. The Botanic Gardens
This family friendly attraction presents a delightful natural floral treat. The Botanic Gardens compliment the riveting vista of Sydney Harbour. Encompassing an area over 30 hectares, the immaculately maintained gardens are divided into a number of specialized gardens with each depicting an area of the world of plant life.
3. Bondi Beach
One of the city's hotspot for both locals and visitors, Bondi beach is an ideal venue to enjoy the sun, sand and surf. Crossing the length of the white sandy beach is trendy Campbell Parade with a variety of eateries and restaurants to satisfy all sorts of culinary tastes.
4. Sydney Aquarium
Prepare for an underwater adventure with a visit to the Sydney Aquarium. The highly popular aquarium is home to a multitude of diverse marine life – tropical, cold, fresh and salt water fishes, mammals and dozens of other amazing species can be viewed. Walkthrough exhibits are accompanied by commentary. The seal show is definite must see.
5. The Queen Victoria Building
For an unforgettable shopping experience, The Queen Victoria Building promises elegance without skimping on shopping options. The very structure and design of the building is an architectural gem. The shopping hub features elaborate tiling, facades, metalwork, stained-glass windows and an amazing grand staircase.
6. The Blue Mountains
Providing the viewer with a myriad of spectacular contrasts and an escape from the accelerated pace of urban atmosphere, the Blue Mountain range is considered a major tourist attraction. Wentworth Falls, the Three Sisters and the Everglades add to the must-see attractions of the area.
7. The Chinese Garden of Friendship
Found at the end of Darling Harbour and within walking distance from China Town, the Chinese Garden of Friendship presents serenity and solitude amid ancient Chinese architecture. The idyllic gardens are a visual relationship with nature featuring waterfalls, colourful fish, lagoons, willow trees, pavilions and sculpture. Other popular attributes of the gardens include the Courtyard of Welcoming Fragrance, Dragon Wall, Water Pavilion of Lotus Fragrance, Rock Forest, and the Penjing.
8. The Sydney Harbour Bridge
Another world-renowned landmark is the Sydney Harbour Bridge or locally known as the 'Coat Hanger'. For the more intrepid visitor is the exciting opportunity to experience a Bridge Climb which rewards bravery by offering an unforgettable rare sight of the Sydney cityscape.
Obtain an Australia visa
Other things to do in Australia
https://www.easytravel.co.za/wp-content/uploads/2013/11/sydney-harbour.jpg
288
460
Ryan Smethurst
http://www.easytravel.co.za/wp-content/uploads/2017/11/et_web_logo.png
Ryan Smethurst
2013-11-18 11:39:06
2015-04-27 09:19:55
8 Tourist attractions that oozes the charm of Sydney