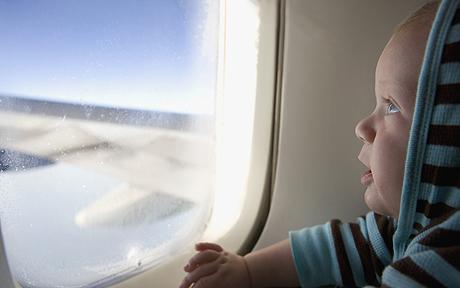 First time flying with a baby can be nerve wrecking for any parent. The limited space in an aircraft can be a challenging environment especially when travelling with a toddler. Fortunately there are ways in which to overcome these tricky situations with helpful advice from experienced parent travellers. We hope you find these helpful too.
1. Check your seating arrangements
It is advisable when making your travel bookings to inform your travel agent or airline that as you will be travelling with small children to ensure that you will be seated together. When at the check-in counter, double check that your seating arrangements are in order. Consider booking the window seat and seats close to the front of the aircraft. Don't forget to carry along your child's birth certificate.
2. Arrive in good time at your departure gate
Factor in plenty of time to arrive at your departure gate early. Travelling with small children slows you down and with security checks in place, it is a good idea to allow yourself time to go through the processes without the added stress.
3. Information is king
Check with your airline should you have any questions or concerns or for any updated security measures. It is also a good idea to check the websites of any of the airports you will be stopping at for facilities they offer. This would best help you prepare for a trip with connecting flights or multiple stopovers.
4. Air cabin pressure changes
Prepare for changes in air pressure during takeoff and landing. Babies and small children are especially susceptible to the change of air pressure which they find painful and uncomfortable. A helpful piece of advice is to have your baby suck on a dummy or a feed from a bottle or sippy cup.
5. Change of clothing
A change of clothing for baby, you and your partner is a must especially if you're travelling on a long haul flight.
6. Snacks
Carry plenty of snacks to keep small children happy and occupied, preferably of the healthy sugar free variety.
7. Spring a surprise
This helpful advice works well with younger children. When preparing entertainment activities for your toddler, don't make all of them available at once. Spring a surprise by revealing toys one at a time.
8. Stretch the muscles
Surviving long haul flights can be tough on little bodies. Encourage your child to stretch tired muscles by walking up and down the aisles with them. This ensures their safety and to respect the privacy of other passengers.
9. Medication
Check with your airline about security and safety restrictions regarding medication. Some over the counter drugs come in convenient handy travel size sachets. Should you need to carry medication with you, have your doctor's letter on hand and obtain prior approval from your airline.
10. Keep calm and relax
It is a well known fact that babies and young children respond to the energy especially of their parents. By you breathing deeply and maintaining an air of calm, your baby is assured that all is well.
https://www.easytravel.co.za/wp-content/uploads/2013/11/baby-travel.jpg
288
460
Zulfah Abrahams
http://www.easytravel.co.za/wp-content/uploads/2017/11/et_web_logo.png
Zulfah Abrahams
2013-11-15 13:47:55
2015-02-09 19:05:34
10 handy tips for parents and guardians flying with babies or toddlers