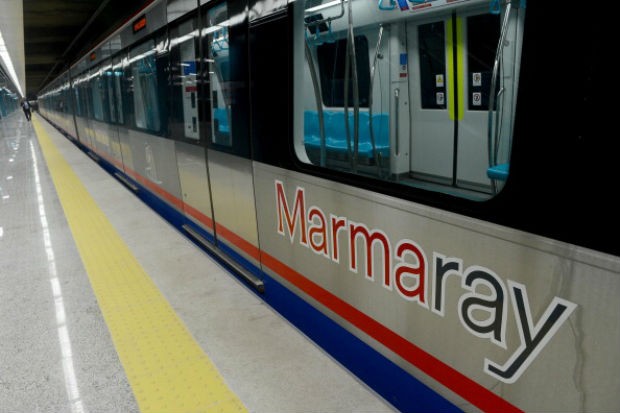 A 150 year old plan initially put forward by an Ottoman Sultan in 1860 has finally come to fruition. Turkey recently unveiled the underwater Marmaray railway tunnel, effectively connecting Asia to Europe. The unveiling of the tunnel coincided with Turkey celebrating its 90th anniversary of the founding of the Turkish Republic.
Turkish officials and the Japanese Prime Minister Shinzo Abe, attended the ceremony. Japan has been instrumental in the construction and financing of the Marmaray railway tunnel project with an investment of $1bn of the $4bn total cost of the project.
"I wish from God that the Marmaray that we are inaugurating will be a benefit to our Istanbul, to our country, to all of humanity," said Turkish Prime Minister Recep Tayyip Erdogan said at the official ceremony. "Today we are realizing the dreams of 150 years ago, uniting the two continents and the people of these two continents."
This is the world's first underwater railway tunnel to link two continents. The tunnel more than 55 metres deep and according to Turkish officials is 13.6 kilometres in length, including 1.4 kilometres running under the Bosporus Strait – the connecting link between the Black Sea and the Sea of Marmara.
It is hoped the Marmaray tunnel, dubbed by Erdogan as the project of the century, will help alleviate Istanbul's chronic traffic. Officials see a1.5 million passengers, who would normally traverse two heavily trafficked bridges daily, utilizing the services provided by the tunnel. And it is hoped the tunnel will eventually serve high-speed and freight trains.
"While creating a transport axis between the east and west points of the city, I believe it will soothe the problem" of congestion, said Istanbul's mayor Kadir Topbas.
Responding to raised concerns that the newly built railway tunnel could be vulnerable to earthquakes in an area known for its high seismic activity, Turkish Transportation Minister Binali Yildirim said that the Marmaray tunnel is designed to withstand a massive 9.0 magnitude quake. He went further and called it "the safest place in Istanbul."
The underwater portion of the tunnel was dropped in sections to the sea bottom using the immersed-tube method used around the world. The tube sections features flexible joints built to withstand shocks.
The Marmaray railway tunnel is part and parcel of Erdogan's grandiose plans for Istanbul. A former mayor of the city himself, Erdogan has in his sights a separate tunnel being built under the Bosporus for passenger cars, a third bridge over the strait, the world's biggest airport, and a massive canal that would bypass the Bosporus.
https://www.easytravel.co.za/wp-content/uploads/2013/11/marmaray_tunnel.jpg
413
620
Zulfah Abrahams
http://www.easytravel.co.za/wp-content/uploads/2017/11/et_web_logo.png
Zulfah Abrahams
2013-11-08 11:39:03
2015-02-09 19:08:30
After a 150 year wait the underwater Marmaray tunnel finally comes to fruition to change the face of Turkey