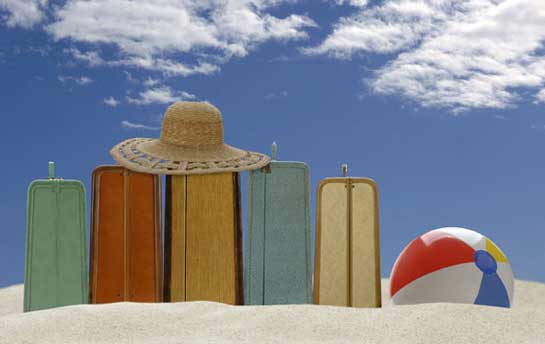 Every traveller knows the pitfalls of an unplanned trip. While travelling on holiday to an exotic location may be an explosion of excitement, being forearmed with travel tips from the well-travelled lessens the sting of stress. Here are 20 top travel tips to consider:
1. Have a check list before you pack of all the ESSENTIAL items you will require whilst travelling.
2. Take out travel insurance. Secure yourself and your valuables against unforeseen misfortunes.
3. Valuables including jewellery, expensive digital equipment and money, traveller's cheques, etc should ALWAYS be kept out of sight no matter which destination you head off to.
4. Have a good night's sleep and hydrate by drinking lots of water the night before you are due to fly out.
5. The quickest way to endear yourself to the locals is to use their language. It helps in transforming an apathetic attitude into a congenial one. Equipped in common phrases such as 'please', 'thank you', 'yes', 'no', 'sorry' in the local language will promote you in getting better service or assistance.
6. The best time to pack for travel is after doing the laundry. This helps in giving you maximum choice in choosing what to pack.
7. Clothes that don't require ironing is preferable.
8. The key word when it comes to packing clothing for travel is COMFORTABLE.
9. The moment you think of something you need to pack, the travel-size sewing kit for example, pack it or add it to your things to pack list immediately.
10. Take pre-packed snacks such as nuts, dried fruit or cereal bars along. They will always come in handy no matter where you are, be it trekking across the Sahara or squatting on the uncomfortable airport chair during a long stop over.
11. Be an eco traveller. Use a refillable water bottle for your drinking water needs.
12. As a cautionary measure, make photocopies or scan and email copies to yourself and family or friends of passports (front and back) and other important documents as well as credit cards before embarking on your travel.
13. Window seats on an airplane may be handy for laying your head against, but aisle seats are more convenient for those without big bladders and their nearest neighbours.
14. For those that suffer from motion sickness, a combination drink of half ginger ale and half club soda is helpful in overcoming nausea.
15. Have a handy pack of travel tissues; toilet paper may not be available in certain places around the world.
16. Be sure to stand stretch aching muscles from time to time using the aisle during long-haul flights.
17. Turn your mobile phone into a multifunction gadget. The camera function can be used to 'take notes' of nametags, destination signs or restaurant names. Taking a photo of your luggage is a good idea should you have the misfortune of it going missing. A picture is worth more than words can describe.
18. Carry-on luggage should include a change of lightweight clothes.
19. Work your way out of jetlag and sleepless travel by exercising. Cardiovascular exercise works well.
20. Alert your credit card company of your travel intentions. Note down customer care and helpline numbers.
http://www.easytravel.co.za/wp-content/uploads/2013/09/travel_tips.jpg
344
545
Zulfah Abrahams
http://www.easytravel.co.za/wp-content/uploads/2017/11/et_web_logo.png
Zulfah Abrahams
2013-09-18 15:32:40
2013-09-18 15:32:40
20 top travel tips from seasoned travellers