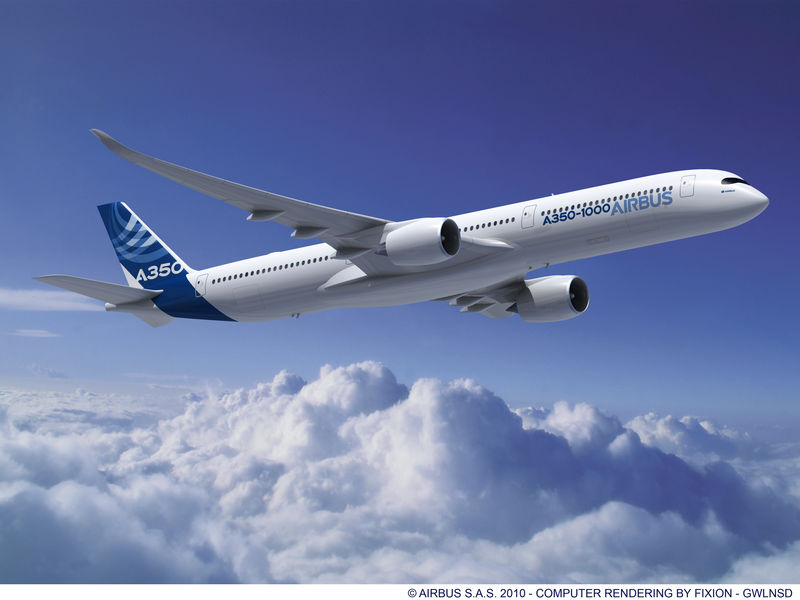 The Airbus A350's maiden flight in Toulouse marked a milestone in the travel and aviation industries respectively. The successful four-hour flight was crewed by former fighter pilots – two British and French. On board the aircraft were heavy loads of test equipment.
The design and launch of this next-generation Airbus 350 is set to challenge and cut down the American Boeing's 787 Dreamliner's hold on the lucrative long-haul market for wide-body aircraft. The A350 sports two impressive Rolls-Royce XWB Trent engines. These highly efficient engines were built exclusively for the A350 and is said to be the "world's most efficient" engines, each powering out 84,000 lb of thrust.
Wherein then lays the secret to the A350 airbus? Almost three-quarters of the aircraft casing are made up of lightweight carbon-fibre designed to economize on jet fuel. The combination of light weight body, super efficient engine and new aerodynamics allows for the A350 to burn up to 25% less fuel as compared to the Dreamliner. This economy would reduce the cost of long-haul flights up to as much as half the cost.
The aircraft has been in development phase for eight years which is approximated to have cost $15 billion. The A350 will be available in three variants with seating capacities ranging from 270 to 350 passengers in three class layouts.
The A350's entry into service is scheduled for the latter part of 2014. This is after a delay of about 18 months. Much of the delay is due to the advanced changes in technology and materials. Both the manufacturers of the A350 and the Boeing have used lightweight carbon fibre reinforced plastic instead of the traditional aluminum alloy. The wings of the A350 is said to be the largest for a wide-body aircraft.
Chief executive of EADS, the parent body of Airbus, expressed optimism that the A350 airbus would be delivered to Qatar Airways towards the later part of 2014. The only challenges the parent company foresees is the acquiring of certification and the final run in production stage.
Apart from the launch customer, Qatar Airways which is due to receive 80 of all three variants of A350's, other customers in line for the A350 include: British Airways and Hong Kong's Cathay Pacific. Airbus has already seen over 600 orders for the A350 which speaks of confidence in the new entrant in the long-haul wide-body aircraft market.
Thousands of Airbus employees and aviation devotees who had gathered to witness the landmark flight greeted the touchdown of the A350's maiden flight with jubilant cheers. The success of the A350's faultless maiden test flight is revealed in the words of Airbus's chief test pilot, Peter Chandler, who after piloting the prototype aircraft said: "It just seemed really happy in the air," and further added, "all the things we were testing had no major issues at all."
https://www.easytravel.co.za/wp-content/uploads/2013/06/airbus1350.jpg
600
800
Ryan Smethurst
http://www.easytravel.co.za/wp-content/uploads/2017/11/et_web_logo.png
Ryan Smethurst
2013-06-24 19:41:36
2013-06-24 19:44:38
Airbus A350's maiden flight