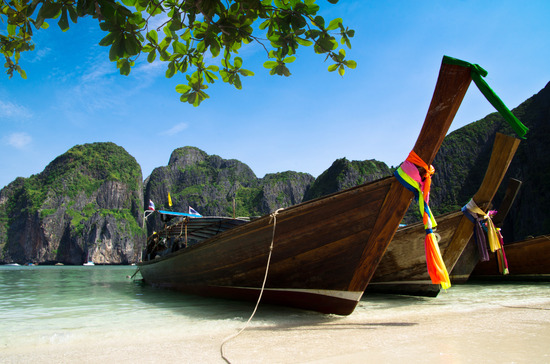 Budget-friendly Thailand is widely regarded as a premier holiday destination. In 2010 alone, this Southeast Asian country hosted more than 15 million visitors. This could be attributed to the tourism and hospitality industry meeting the needs and desires of its visitors in countless ways; from providing an inspiring cultural explosion to high adventure for the adrenaline addicted to marvelling at its many natural wonders and accommodating budget-conscious travellers.
The irresistible natural beauty, beautiful untouched beaches, mythical ancient ruins, an exotic colourful culture and tantalising cuisine; spectacular parks to lose yourself in and with bustling cities that bombard the senses all make for Thailand being the jewel in Southeast Asia's crown.
A visitor to Thailand can be overwhelmed with so many things to do see that more than one visit may be required to fully appreciate all it has to offer. Our five favourite must-see attractions that we think every tourist to Thailand should experience:
1. The Grand Palace
In our number one spot is Bangkok's most famous landmark; the exquisitely designed Grand Palace showcases the ingenious craftsmanship and creative architectural vision of the Thai. This historic attraction was built in 1782 and comprises of a number of incredible buildings, most notable of which is the Wat Phra Kaeo. This handsome temple is home to the famous 14th century magnificent Emerald Buddha statue.
2. The Floating Market
Another tourist friendly gem in Bangkok is the world famous Floating Market located near the Damnoensaduak canal. This unique facility promises plenty of sensory stimulation which is why it makes its mark on a visitor's itinerary list. Fresh produce, decorative items and souvenirs can be purchased here.
3. Khao Yai National Park
The Khao Yai National Park has earned its spot among the UNESCO World Heritage Sites around the world. It is also a favourite with tourists for its mountainous landscapes, cascading waterfalls, lush vegetation and the abundance of wildlife. The park is home to 65 species of mammals including the Clouded Leopard, and 320 species of birds which can be observed on any of the exciting hiking trails in the park.
4. Phi Phi Island
Phi Phi Island is an idyllic soulful tropical paradise and one of the world's most beautiful islands, with characteristic unspoilt beaches and stunning rock formations. Another great reason to include Phi Phi Island into your visit to Thailand is to experience the pulsating and exciting nightlife here.
5. Phang Nga Bay
Phang Nga Bay, situated about 95 km for Phuket joins Thailand's legion of picturesque locations. The exotic island location which includes Ko Ping Kan was featured and made famous in the James Bond movie, "The Man with the Golden Gun". The area comprises of awe-inspiring sea caves, aquatic grottoes as well as limestone islands.
Luckily for South Africans wishing to take advantage of the incredible attractions of Thailand, no visa is required; South African passport holders can enter the country for 30 days as visitors.
http://www.easytravel.co.za/wp-content/uploads/2013/10/photodune-2737620-thailand-xs.jpg
364
550
Zulfah Abrahams
http://www.easytravel.co.za/wp-content/uploads/2017/11/et_web_logo.png
Zulfah Abrahams
2013-10-18 15:21:25
2015-04-27 09:19:52
Destination Thailand: 5 favourite must-see attractions in Southeast Asia's tourist jewel