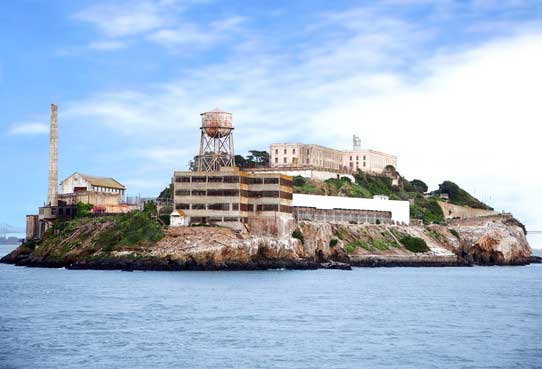 The global tourism market has added an unusual unique tour to its list of attractions – the prison tour. The industry has seen a rise in interest in this unusual attraction as travellers seek experiences that are out of the ordinary. Travellers opting for tours with a difference seek to satisfy their curiosity and fascination with what life can be like behind bars through prison tours.
What makes a prison tour so unique and enticing for visitors is that life behind bars is out of their normal life experience, and a prison tour is the closest they can get to experience such a life.
A look at some of the more popular prison tours around the world:
• Alcatraz, USA
Over a million visitors a year walk through the gates of the former Alcatraz prison. The demand for these tours exceeds the capacity and visitor numbers need to be capped. This legendary prison that was once home to some of the US' most notorious criminals such as the likes of Al Capone has also a wealth of natural beauty and wildlife.
• Robben Island, South Africa
A World Heritage site due to its historical importance, the Robben Island tour is a hugely popular attraction. The former island prison served a place of banishment and imprisonment from the 17th to the 20th centuries. This once maximum security prison was once where the mentally ill and criminally insane were sent before becoming an institution for hard core criminals. The most famous inmate of the prison was Nelson Mandela where he spent 27 years of his life fighting apartheid.
• The Old Melbourne Gaol, Australia
This was an active prison between 1842 and 1929. The prison's fame was founded on the number of hangings that took place there – almost 150 hangings. Included in the tour is information about the prison as well as the source of its fame, the manner in which the hangings were conducted.
• Clink Prison, England
Located in the city of London, this former prison has been converted into a museum. This was a private prison that became home to anyone who happened to earn the ire of the Winchester bishops. The prison destroyed in a fire in the 1780's was reconstructed and turned into a museum.
• Elmina Castle, Ghana
Elmina Castle's fame arose out of it being a holding place for prisoners for 300 years en route to the New World. The prison cells could keep up to as many as 200 individuals. The prison is now a World Heritage site.
• Tuol Sleng, Cambodia
Tuol Sleng was opened in 1975 by the Khmer Rouge. About as many as 17 000 people walked into the gates but few made it out as it was used as a place of torture and execution. The prison-turned museum now stands as a memorial for all the victims of the Khmer Rouge. Cells still stand as they were in its time of operation and there are photographic exhibits as well.
https://www.easytravel.co.za/wp-content/uploads/2015/02/prison_tours.jpg
369
542
Ryan Smethurst
http://www.easytravel.co.za/wp-content/uploads/2017/11/et_web_logo.png
Ryan Smethurst
2015-02-09 15:00:32
2015-02-09 18:14:59
Unusual tourism destinations: the rise in popularity of prison tours